When ever you receive error message then there was a problem connecting to the server during the process of Apple Watch set up. Probably this error may occur when you try to log into messages.  One of the main problem with this error is that there's no way to bypass it from the Apple Watch app. Thankfully, however, there is a way to get past this error so that you can complete the Apple Watch initial set-up process.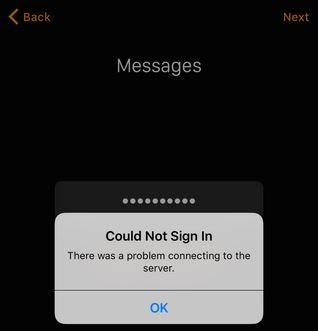 To over come this error and to continue the Apple Watch set-up, you have to close the Apple Watch app, and open the stock Settings app. From there, open the Messages panel, and then disable iMessage.
After disabling the iMessage, resume the Apple Watch set-up process  and it should allow you to bypass the Messages login requirement altogether since it's no longer enabled. Once you complete the setup process, you can go back into the stock Settings app and enable iMessage again.
That's it, this is the process when ever you get the irritating error message while Apple Watch set-up process with the server. Whatever the error may be error you get simply follow the above simple steps to over come the error message when you're connecting to server during Apple Watch set up