Fourth generation Apple TV is latest version and this article provides the information about how to put Apple TV into Sleep mode. If you're not aware then simply follow the steps given below. There are two methods to put the fourth generation Apple TV into sleep mode.
Method 1:
Similar to Sleep/Wake mentality of iOS, there is no OFF option for Apple TV. You can place the device into sleep or standby mode which will shut off the white LED light that signals that the device is awake and running. On the Siri remote press and hold the home button for a few seconds. In the pop-up menu select sleep.
Method 2: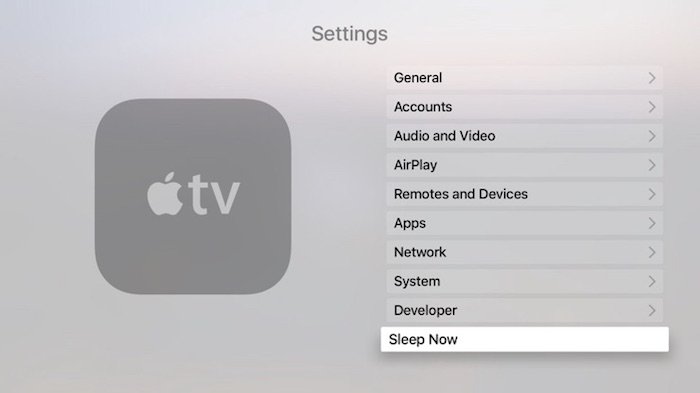 Navigate the settings app under the main menu and tap on the General followed by Sleep now.
Once you tap on the sleep now option, the device will automatically go into sleep mode.
You do not have to put the device to sleep manually if you do not want to. The device will place itself into sleep mode after a certain amount of inactivity. You can choose how quickly your Apple TV goes to sleep by going to Settings – > General -> Sleep After and selecting the amount of time you prefer.

To wake the device from sleep, press any button on the Siri Remote. You will notice the LED light turn on once the device is out of sleep mode.