Not many games attempted to compete with games like Pokémon Go by making players physical location have an effect on the game, but the game MMO magnus forces you to actually stand up and walk around in order to make progress. Free games added to the app store this week.
Birdy Trip: Its time to migrate sunny lands. Grab your cute friends on the way and be careful, many dangers could smash you during your journey.
Features of game are:
One Touch Control.
Beware of Eagles.
iMessage Stickers.
Game Center Leader board.
Discover & catch more than 50 Birds.
Darkest Nightmare: Freeform
Its going to be a long and dark night for Gerde, the only survivor from a group of magician. The mission isn't going to be easy that, however as intoxicating monsters have taken over the Dreadful path she needs to traverse.
Features:
Take part in the Quest: Enter Gerde's world in her mission. Will she prevent the light from dying?
Clash the Monster: Face Kill hungry beasts one after another. Can you survive for at least 5 nights.
Enter a World of Dying Light: Clear up levels to unlock more puzzling areas in the map.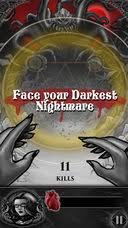 Dice Brawl: Captain's League
In Dice Brawl you will build your team and embark on an exciting adventure across a world of fantasy ruled by pirates, Elves, Beasts, Dragons and many more.
Features:
Online Multi-player: Battle players from around the world in real time.
Collect and Upgrade: Collect new ships and characters to build your team. Upgrade your teams for stronger skills and higher HP.
Glitch Dash: Dodge your way past hammers, axes and geometric obstacles and even lasers!!  Your reflexes need to be on edge to get through the intense mazes that is glitch Dash.
Features:
Incredibly Hardcore game play.
Gloriously abstract and funky graphics.
Epic beat driven game play to music.